SWIM TO END POLIO
On August 6th & 7th, Rotarian Thie Convery will swim 52km across Lake Ontario for Rotary International's END POLIO NOW Campaign
"Eradicating polio will be one of the most significant health accomplishments in history, and we are committed to helping reach that goal with Rotary as one of the key partners."
—William Gates Sr., co-chair of the Bill & Melinda Gates Foundation
The Official Solo Swims of Ontario Swim Master Report for Thie's Lake Ontario crossing can be found here.
Check out CTS-TV's coverage of the Swim To End Polio
Click the photo to view the story.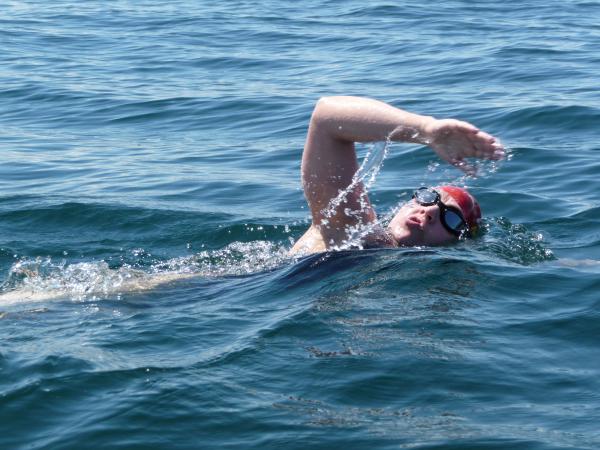 Swim Updates: Follow Thie across Lake Ontario
Stay posted for updates on the Lake Ontario Crossing. This page will be frequently updated as often as communications from the Lake to the shore permit.
If you are planning on joining us for the launch at Niagara-on-the-Lake, we will be posting a map and further details on Thursday August 4th.
---
 Updates to John Farnan via texts from Frances Manias, Swim Manager
Thie got into the water today at 9:45. In her first hour she achieved 4 k, she is being fed every 20 minutes.
In hour 2 she achieved almost 3k and has been listening to music by Montreal's Nikki Yanofsky.
Report for hour 3. Thie has settled into a pace of 50 strokes per minute, and has reached calmer conditions.
The weather is clear and calm, and the details of the Toronto skyline are clear ahead.
Pictures of the launch are available at   www.cmphotos.net  under community events.
Hour 4. 1.6 km this last hour.jeff just got in the kayak with her and she said yippee!  Listened 2 Heal the World by MJ. Stroking well.

Hour 5. Don't have a distance update yet, pacer Michele is in the water, and is encouraging her. Going well.

Hour 6. 2.27 k this last hour. Both Jeff and Michele doing a great job keeping Thie motivated. A bit of cloud cover is a great help too. 3:50 pm.

Hour 7. 2.17kph and good energy and spirits despite waves over 1m. feeding well!

Bad news. Due to the mounting waves the swim had to be ended. The 2 meter high waves made it impossible to control the boats, and of course impossible for Thie. She was taken aboard the larger boat in excellent condition, and in good spirits. We are alldissappointed, but it was a great effort on everyones part
Keep watching. Good night.
Launch Details
---
The "Swim To End Polio" is making news across Hamilton and across the country!
Check out the recent coverage on Cable 14
Thie recently took a break from training at Van Wagner's Beach to chat with local media personality Jason Farr. Check out the great interview they did sitting on the rocks at water's edge!
And take a look at the feature piece produced by Cable 14 reporter Jackie Vandinther. Call it "a day in the life" of an amazing woman trying to change lives.
Thie Convery Dives Into The Swim To End Polio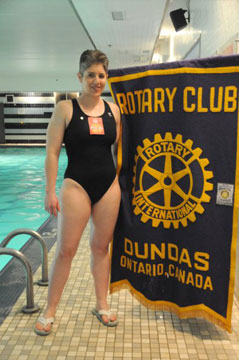 Anyone who knows Thie Convery isn't surprised to hear she's going to swim across Lake Ontario this summer. Why? That's simple. She's got what it takes: Grit, Guts and Gumption. She also has a powerful motivation… The deep and compelling desire to complete the task of eradicating Polio. 
Thie's dream is now known as "STEP" – the "Swim To End Polio". And thanks to the enthusiastic and unwavering support of the Rotary Club of Dundas (Ontario, Canada), that dream is about to become reality. 
The 43 year old financial advisor and Rotarian will be swimming 52 kilometers across Lake Ontario in order to raise more than $52,000. The money  will pay for Polio vaccinations in some of the world's poorest countries.  Statistics tell us that Polio is close to being wiped off the map.
The "Swim To End Polio" will bring us that much closer to wiping it out for good. 
But the story doesn't end there. In fact, it gets even better. 
Every penny raised will be matched by the Bill and Melinda Gates Foundation through Rotary International.  That means every donation will double!  It also means that at least 200,000 children will be immunized against Polio.
It's the dream of a lifetime. And you can help make it come true!
Please share whatever you can by clicking the Donate link on our website.
We appreciate your generosity more than you know.
Thousands of children will live because you cared… and because Thie Convery swam.
Support the Swim To End Polio, Donate Today!
Rotary Clubs wishing to be recognized by RI for contributing as part of the $200 Million Challenge can donate directly to the Rotary Foundation – please reference Polio Swim upon donating.
Or, please donate directly to The Rotary Club of Dundas Charitable Trust online (via CanadaHelps.org) or by printing out the donation form and mailing in your contribution today!
"Hi, my name is Thie Convery. With the help of the Dundas Rotary Club and the Bill and Melinda Gates Foundation, I am going to swim 52 kilometers across Lake Ontario to raise enough money to vaccinate two hundred thousand children for the Polio virus. Will you help me?"